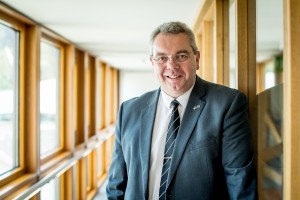 Sadly on 7th  December 2016, Alex Johnstone, our widely respected Scottish Conservative MSP, passed away at the age of 55.
Alex – who represented the North East of Scotland in an unbroken record of service going back to the formation of the Parliament in 1999 – died after a short illness.
Born in Kincardineshire in 1961 and educated at Mackie Academy in Stonehaven, Mr Johnstone spent his entire life in the north east of Scotland, where he built a successful career as a self-employed dairy and arable farmer.
Elected at the age of 38, he immediately brought his considerable experience in Scotland's rural economy to the parliament, initially as its first ever convener of the rural development committee.
In 2001, he was appointed as the Scottish Conservatives' chief whip and business manager, serving on the Parliament's business bureau.
Scottish Conservative leader Ruth Davidson today led tributes to Mr Johnstone, saying he "embodied politics at its best".
He was well respected in the Stonehaven area where he helped many local businesses and supported victims of flooding in the last few years.
Some comments from his Facebook Page include
"This is the saddest news I've had all year ( I'd known Alex Johnstone for twelve years or so, and he was one of the nicest, one of the warmest and one of the best people in Scottish politics. His untimely passing will leave a massive void in both Tory-Unionist and national politics. I am truly going to miss his robust Doric speaking and his common sense approach to politics. My condolences to his wife Linda and his family at this tragic time "
Frank Webster
"Alex was an absolute star, a thoroughly decent and genuine man and a great MSP. He was a pillar for us when we were student tories, always there for us, even when no-one else was. He was a wonderful speaker and fantastic debater, year after year fighting our corner at the Earl Marischal. He was an inspiration to me and i'm sure others, he stayed true to himself, through all his years in politics and never was just another politician. My thoughts go out to his wife Linda and family. He will be missed."
Max Clark